Studying in Canada is a beautiful thing, but unlike student exchanges taking place within Europe and the European Union, you must first obtain a Canada Student Visa and take care of some formalities. No question of waiting for the last moment either! Administrative delays are difficult to predict, so leave yourself plenty of room so you don't suffer too much from the stress of a longer than expected wait time!
Canada is not part of the European Union, all French students must  be in possession of a passport and apply for a student visa to be able to study in Canada.
The request for the registration form can be done via the internet, or near the nearest Canadian embassy.
Prerequisites:
In order to be eligible for a Canada student visa, the student must meet the following criteria:
Have been admitted to a Canadian university;
Do not have a criminal record;
Be in good health and consent to undergo a medical examination if necessary;
Have enough money to pay for tuition, living expenses and transportation;
Leave no doubt that the student will leave Canada when their authorization to stay ends
Like i mentioned earlier, the Canada student visa application is made once you have received by mail a letter proving your admission to a Canadian university. It is only once this proof of admission has been obtained that you can begin the process of obtaining your student visa.
Requirements for Canadian Student Visa 
---
When registering, you will be asked for the following documents in the application file:
You need photocopy of the first 6 pages of the passport
Original or certified copy of acceptance letter from university or school
Proof of financial means (about 6000 euros)
The amount of the application fee for the student visa application was around 90 euros at the beginning of 2011, but may change.
Where, When And How To Apply
It is suggested to apply as soon as the letter of acceptance to a Canadian university has been received. Impossible to do before that, by the way.
To apply for a Canada student visa, there are several official paths.
Canadian visa office: Whether you live in France, Germany, Switzerland or elsewhere, there should be a Canadian visa office in your country to turn to.
Visa Application Center: For a Canada student visa or any other type of visa, this is the place to apply.
Online: Thanks to the wonders of technology, it is now possible to fill out forms and send the necessary documents from anywhere, as long as you have an Internet connection and a scanner (or a camera).
To obtain a student visa for Quebec, check the provincial criteria and guidelines. You may be asked for certain additional documents – the Quebec Acceptance Certificate (CAQ) is an example of a mandatory document that must be obtained before you can submit a study permit application.
Deadlines for obtaining a student visa: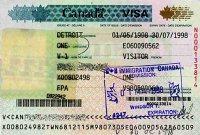 It takes an average of two weeks for the embassy to send you a response , positive or not, for obtaining your visa. This delay can reach a maximum of 5 weeks during the most important periods, which is why it is advisable to start the visa application as soon as possible, once you have proof of admission to the university.